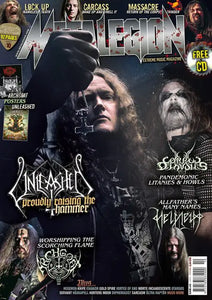 Metalegion
METALEGION - Magazine #10
Regular price
€5.99
€0.00
Unit price
per
Tax included.
English written magazine, composed by 92 full colour glossy pages, Sampler CD & 2 Posters
Highlights on this issue range from features again with some of the top acts of the metal scene, like UNLEASHED, MASSACRE, CARCASS, ARCHGOAT, HELHEIM, LOCK UP or one of the most ominous black metal band CORPUS DIAVOLIS but also covering underground gems like HEGEMON, SARCASM, VORTEX OF END, SERVANT, MORTE INCANDESCENTE, KNIFE or the dinosaur driven concept from the Canadians ÜLTRA RAPTÖR between many others.
It also features a 2-page label report from DYING VICTIMS PRODUCTIONS showing why its important young blood behind the record industry, a mixtape done by PROFANATICA/HAVOHEJ mastermind PAUL LEDNEY, an extensive 2-page dissection of the early OVERKILL first albums, plus all sort of regular sections and a 78 minutes sampler CD featuring songs from bands that will satiate your headbanging needs.
---